The Palmer family (L to R Lilly, John, Bobbi and Jackson) have lived in Mbale, Uganda and served at Lulwanda Children's Home since February 2014.  They are excited about serving God and serving the orphans of Uganda at LCH. And GICF and the staff at Lulwanda are excited that this compassionate Christ-following family has come to join the extended family of the Children's Home.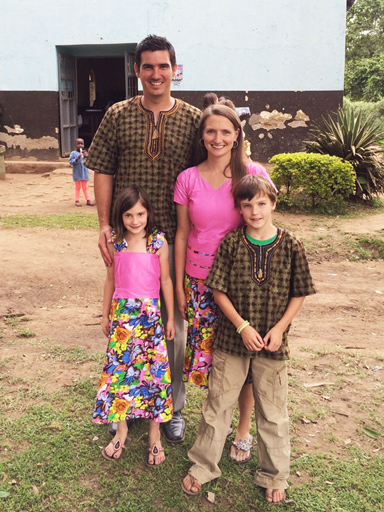 You can learn more about the Palmers and their adventures on their blog site  (click here).
Should you wish to provide tax-deductible financial support to the Palmer family, please make checks payable to Grace International Children's Foundation, and be sure to write "Miss. OD" in the memo line (stands for Missionary Support – Operations and Development). These donations are tax-deductible in the USA, and tax receipt letters are issued annually. As required by the IRS, all contributions are solicited with the understanding that Grace International Children's Foundation has complete control and discretion over the use of all donated funds.  Click here to learn more about financial accountability at GICF.
Checks should please be mailed to:
Grace International Children's Foundation
5121 FM 359
Richmond, Texas 77406
You may also provide financial support using your credit card online, it's easy and safe. Click below to transfer to a secure server at Network For Good, the service provider we utilize. MasterCard, Visa and American Express credit cards are accepted, or you can pay via your PayPal account. You have the choice to make a one time donation or set up a recurring payment. Please select "Missionary Support: Palmer" in the pull down Designation menu. Tax receipts are issued by email immediately after donating.