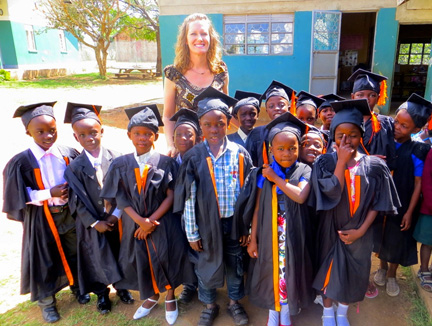 Natalie Rolfe, beloved volunteer missionary to Lulwanda Children's Home, left Uganda and moved back to America on October 10th, almost 9 1/2 years after arriving in Uganda in May, 2007. 
Lulwanda Children's Home has been blessed immensely by this dedicated, loving self-funded missionary who left her familiar surroundings in Texas in 2007 to come serve in Uganda at Lulwanda. She first came on a short-term visit, and fell in love with the children. She returned later that year and provided much-needed phonics instruction in Lulwanda Primary School. Then in 2010, her role changed to that of Program Coordinator, which she has held ever since. As Program Coordinator, she has provided administrative support in the areas of planning field trips, coordinating activities between the school and the Home, helping the children stay in touch with their sponsors and vice versa, assisting visiting mission teams with logistics and event scheduling, and much much more.
"The children of Lulwanda have been a huge blessing to me since the day I arrived" says Natalie. "I am deeply grateful for the opportunity to be a part of their lives as they grow up."
Natalie has prayed about her decision to leave Lulwanda for the past two years. While on her recent sabbatical to seek Him for wisdom, she heard clearly it was time to say goodbye to the children and staff whom she has loved dearly and served so well all these years. She beautifully shares her heart and feelings surrounding this difficult life change on her most recent blog which you can read by clicking this link: http://natalierolfe.blogspot.com/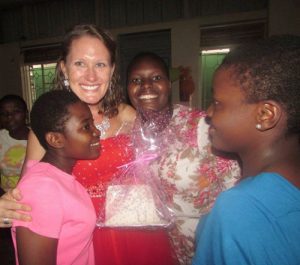 Words cannot express the depth of gratitude we have for Natalie. Her tireless, faithful service has positively impacted the children of Lulwanda in immeasurable ways. Every activity she organized and every heart to heart discussion she had with the children demonstrated her love for them. Natalie was a friend to so many, visiting sick children in the hospital, praying for countless needs in her missionary community as well as her Lulwanda family. We are going to miss her terribly. We urge everyone whom Natalie blessed through her service to the orphans of Africa to send her an encouraging thank you and to pray for her discernment in seeking out God's next steps for her.
Natalie will have many needs once she returns to the USA (for example, a car, and money for day to day living costs). If you would like to support her financially with a resettlement gift you can mail a check payable to Midland Bible Church (her sending church) with a note stating it is for "Uganda Missions: Natalie Rolfe" and they will ensure she receives it. A receipt for tax purposes will be sent in January 2017. Please mail checks to:
Midland Bible Church
5900 Whitman Drive
Midland, TX
79705