That's right, new kids recently joined the Lulwanda family, and more will be coming this year. Please consider helping us cover the costs of rescuing more orphaned children.
*** News Flash ***
After completing detailed evaluations in cooperation with the Probation Officer (the government official responsible for orphan care in the Mbale District), 4 children were brought forward to the Family and Children Court at Mbale Magistrates Court on December 19 and the judge approved assignment of the 4 to Lulwanda Children's Home.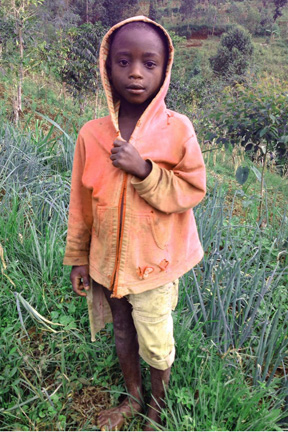 The 4 children which were approved and who have just entered Lulwanda include Kettu Kakayi, 9 and Dan Makhouge, 5, shown here. Their parents have passed away and they were recently living  (at various times) under the care of their 18 year old brother, their elderly grandmother and an uncle who has five children of his own and lives in a state of extreme poverty. Both children are in a fair state of health. Dan has severe ringworm on his head that needs immediate attention, has chiggers (parasites that live in the skin) in his toes, and a distended stomach – a sign of intestinal worms.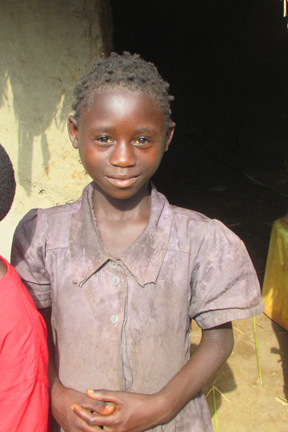 Kettu is undersized and underweight for her age of nine years. The grandmother and the uncle are very happy that the children will go to Lulwanda.. Kettu and Dan have 6 siblings: Milton (6) and Kevin (5)  already live at Lulwanda.
To see a 1 minute video about our search for Kettu (Kate) and Dan click here.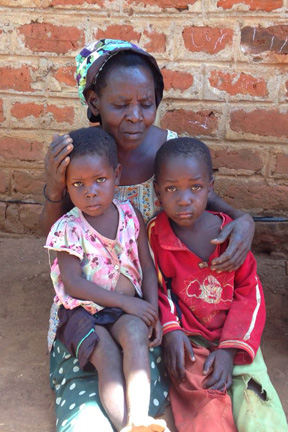 The other 2 children are Mark Pande (5) and his sister Witney Hanakwa (3). Their parents are both dead, and they have been in the care of their elderly grandmother. Unfortunately, their grandmother runs a small brewery, has men coming at all hours of the day to drink, lives in poverty herself and neglects the children.  She desperately wants the burden of the children to be removed from her, as she recognizes she cannot properly feed or clothe them. During the home visit, it was noted that there was no furniture in the grandmother's house, no utensils and no evidence of any food. The children slept together on the dirt floor. Both children were in a poor state of health and were very hungry. Both of them have head ring worms that need immediate medical attention. Both children are undersized and underweight for their age.
These 4 children now enjoy a safe place to live — with a bed of their own, lots of nutritious food, medical care, playtime activities, quality schooling and hope for a bright future.
Praise the Lord for giving us the ability to rescue these 4 precious children!
The fifth child under consideration to enter Lulwanda is still being evaluated. Results of the assessment will be rolled into a recommendation any day.