We greet you all in the Name of our Lord and Savior Jesus Christ. We are appreciative to God for the good health that He has granted unto us. The children are fine and growing steadily. Our staff is doing a commendable job of looking after these vulnerable children. The month of January was still part of the long school holiday and we had lots of activities taking place at Lulwanda. Please allow me to report on the following aspects that made headlines in the month of January 2017:
We had the Korean day that was characterized by a wrap up visit by the Korean University students from the Korean University Council of Social Sciences-KUCSS.
These University students were a great inspiration to the Lulwanda children. They taught our children how to assemble solar lights, hygiene maintenance, did math tutorials with the primary school teachers and at the climax of it all, they donated 11 brand new computers and a printer. They also did leave us with numerous scholastic materials to be used by both the home and the school. All the children at the home were presented with with great looking bright green shirts.  Special thanks go to John Palmer who was the main contact person with these University students. It was also a motivation to our children to study harder aiming at University.
We also had the Birth Day celebrations in the month of January. The birth day "babies" were dressed smartly as early as 10:00am. Several skits, drama, plays were arranged so there was lots of entertainment from the children themselves.  A big cake was cut by the representatives of the babies then served to the rest of the children and staff. Sodas were served and every child and staff present took a bottle of soda. This time round, these celebrations were organized by our very own Mercy Chekwemboi who volunteered to fill up the role of Natalie. I must say that she did a wonderful job because the celebrations were fantastic and superb.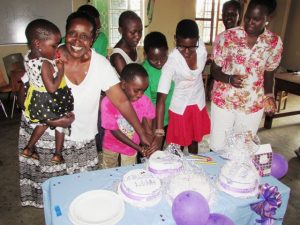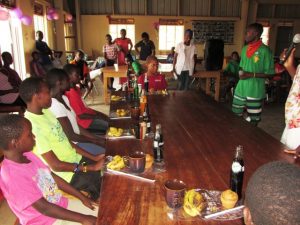 In the month of January, the results of P.7 national examinations were released. We had 3 children getting the top score of grade 1, 8 children getting grade 2; 1 child getting grade 3 and 1 child getting the lowest grade 4. None of our children failed and they will all join Secondary schools. Thank you so much for your fervent prayers. The individual performance of our 13 children is seen here below.
 
 
                            
 
 
           

                   NAMES

 

SEX

 

ENGLISH

 

SCIENCE

SOCIAL STUDIES
 

MATHS

 

TOTAL

 

GRADE

01.
GIFT   NALUBOKA
   F
       2
       2
      1
      2
   07
     1
02.
NORAH  MASAI
   F
       1
       2
      2
      2
   07
     1
03.
JOEL  (WILLY)  WAMONO
   M
       2
       3
      3
      3
   11
     1
04.
VINCENT    WANANTSOFU
   M
       4
       4
      3
      3
   14
     2
05.
TIMOTHY      WANDIBA
    M
       3
       4
      2
       5
   14
     2
06.
PHOEBE      NAMBOZO
    F
       3
       4
      2
       6
   15
     2
07.
EGULANSI  NADONGO  GRACE
    F
       3
       4
      3
       6
   16
     2
08.
DONAH      NADUNGA
    F
       3
       4
      3
       6
   16
     2
09.
ROSE  SEFULOZA   NAULA
    F
       3
       5
      4
       6
   18
     2
10.
BRIAN       WEBISA
   M
       5
       4
      3
       7
   19
     2
11.
ALAFAT    GIZAMBALI
   M
      4
       6
      7
       4
   21
     2
12.
JACKLINE PHOEBE NGWABE
    F
      3
       5
      4
       9
   21
     3
13.
HELLEN     NAMULINDA
    F
      7
       9
      8
       8
   32
     4
There are some points to note from the above table:
Willy as we formerly called him is actually Joel. Willy is the name for his twin brother so at the time of registration, the mother came with the twin brother and told us that there was a mix up of the name at the time of Willy first entering LCH. That his rightful name is Joel that should appear on all his official documents.
Egulansi upgraded to NADONGO, a name that was given to her by her late mom a few weeks before she passed on. She never wanted her daughter to have a name that would supposedly remind her of the past.
Jackline Phoebe Ngwabe would have been in second grade but because she failed mathematics with F 9. She was pushed to the third grade but she qualifies for secondary education.
Hellen who appears last on the table with aggregate 32, by the standards of Uganda National Examinations Board (UNEB) qualifies for secondary education and that aggregate is as well the cut off point for one register for National Exams at S.4 level. That is what I based on to take her to Secondary school.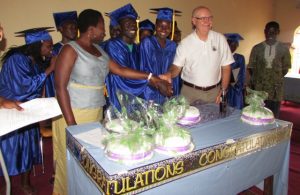 Still in the month of January, we were blessed to receive Mr. Larry and Mrs. Dee Hoelscher. Dee took a new set of sponsor photos, played with the little kids, and helped in the writing of sponsor letters. The climax of their visit was the graduation of 9 children who had completed high school in December. Arrangements are now being developed for these children to pursue vocational, tertiary and University education. These are Emma Ocaya, Anthony Wanzala, Ivan Kuloba, Allen Muhijja, Mercy Chekwemboi, Doreen Kibukuna, Rita Khaintsa, Sylivia Logose and Zulufa Nambuya. The ceremony was held in Bulolero Presbyterian Church and the Chief guest was the District Probation Officer representing the government. We also had Pastor Richard Wamboza representing the LMC. A cake was cut and served to the children together with sodas. We thank Mr. Larry and Dee for coming to grace the occasion.
Acquisition of more land and surveying all of the Lulwanda owned land were yet another highlight for the month of January 2017. We secured three additional pieces of land thanks to the donation by the Grace Fellowship United Methodist team. These lands will be included in the survey as well. Two of these long, narrow pieces which are beside the football field will ease the process of fencing our property once it commences because they create a nice open area instead of the long narrow strips we previously held. This also means that the asset base of Lulwanda Children's Home has increased because unlike other assets that do depreciate, for the case of land it appreciates.
As a routine requirement by the Probation Office and Ministry of Gender, Labor & Social Development, we sent almost all the children to their villages of origin for Social Bonding with next of kin or relatives, that lasted for 12 days. The little ones were taken by our staff for either a few hours, a day or two. The Dan family didn't go because they had been to their village in the last month of December 2016. Some children on coming back had malaria which Ryan handled. We did not experience any discipline issues when all the children came back; in the past this has sometimes been a problem, especially with the older ones. The bottom line of these visits is that the children know who their relatives are and they have to be part of land property shared by the children. In fact in this regard, land agreements have been written for Emma Dee, Clement Kudo. Therefore, once they complete the Lulwanda cycle, they have a fallback position in terms of land.
The Good Neighbor (TGN) day was yet another event that characterized the month of January. This is always in the last Friday of the holiday before children return to schools. The children from the community started coming in as early as 9:00am. They gathered in main hall to meet their LCH counterparts. Welcome remarks were made by the Master of Ceremonies and the program of the day was read to them. Shortly praise and worship songs were sung, followed by individual moments of prayer. This was followed by the preaching from Pastor David who was also the main event organizer. Breakfast was served which comprised of millet porridge with some ripe bananas. The children were then divided into groups for further counseling, they returned for a variety of games and music. A sumptuous meal was served and later speeches were given by Good Neighbor representatives. As is normally done in the first term TGN day, the community children were given a pair of new school shoes and a uniform in addition to the normal hygiene kit and the scholastic materials. Great appreciation goes to Memorial Drive Presbyterian Church who funds The Good Neighbor program. May God bless you richly.
The National exam results for S.4 were released and I am glad to inform you that all our 12 children passed. Nine of these children passed in grade 1 and 2 and they have proceeded to S.5. They are Lucky David Mudali, Brenda Nabwire, David Peter Yeko, Maliza Mutenyo, Aidah Kakai, Dinnah Nambozo, Brenda Namakoye, Phiona Wasagali, and Brenda Babirye. The remaining three: Benard Womeli. Isaac Watero and Beatrice Nambozo will be joining trade schools straight away because they passed in fourth grade which cannot enable them to proceed with S.5 high school. This follows the performance target that we read to them last year. Whoever does not pass in grades 1-3 will automatically branch for a certificate course and might later proceed to Diploma level and finally Degree level.
In His Name,
MUSAGALA SIMON PETER