We begin November by sending our congratulatory message to the G.I.C.F USA Board and all the American citizens upon the successful election of the new US President – Donald Trump. Bravo! Bravo! Indeed God's protection and wisdom be upon the new President elect and his team of administrators as they move America forward.
In this month we had The Alternative Care (TAC) panel meeting at the Probation Officer's office. Here we presented 10 children who are due for Re- Settlement with their families (next of kin) and villages next year. These are majorly the one who stay at Tendo house: Allen Muhijja, Sylvia Logose, Ivan Kuloba, Mercy Chekwemboi, Naster Chebet, Emma Ocaya, Anthony Wanzala, Doreen Kibukuna Rita Khaintsa and Zulufa Nambuya. Each child had detailed information that was given by the Social Workers following their three-week assessment in the homes of the families and relatives of mentioned children where they will live (when not in boarding school). The primary reason for their family re-union is because they have reached the age of 18. However, it also gives us room to take another set of children from Lulwanda to Tendo and hence again we can admit more little children into Lulwanda from the villages. As long as their grades are satisfactory, in most cases the children "re-integrated" with their families will continue on with their education (university or trade school), and tuition will be funded by GICF.
The first batch of sponsored teachers by Books Are the Beginning (BATB) graduated with Diplomas and Degrees.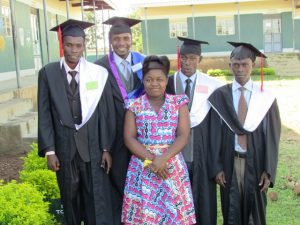 Teacher Amon Mpumwire and Nathan Kaita graduated with a Bachelor's Degree in Social Work and Social Administration while Teacher Francis Masabasi and Emma Kitono have Diplomas in Special Needs Education. Teacher Norah, Carol, Anet are to graduate next year. Special thanks go to Mike and Mary Thrasher and BATB for the financial support that has enabled our teachers to acquire more skills. We pray and hope that this education will certainly benefit the Lulwanda children.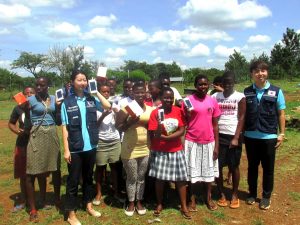 Korean University students visited Lulwanda on a couple occasions. They shared about Korean cultural aspects, foods and of recent they came to teach the older children about Solar Energy. It was quite a participatory and hands on experience. The children were also equally excited to work out the practical examples as instructed by the Koreans under the close supervision of Paul – the Social Worker. This will be part of the holiday activities as we enter long holidays. These volunteers work at one of the biggest day schools in Mbale town called Mbale Secondary School. They are helping in the field of Computer Science and training in Mathematics.
Our borehole water is now fully operational. At first, there were issues to do with the taste and the color but through the efforts of Bryce, all these have been resolved. Of recent again we had a water supply crisis from the nearby water station but due to the connection of our own borehole which supplied the needed water, we didn't feel the pinch. I must report as well that we are having serious issues with Uganda National Water people who recently came to LCH and thought we had bypassed the meter and or had illegal connections. Their anguish stemmed from the fact that LCH water bill has dropped from UGX 2,000,000 to UGX 506,400 as of the day they came to visit. They now want us to furnish them with the details of the Company that drilled the borehole in the first place, they also want us to get permission from the water office to enable us have the alternative source of water. Anyway to save you the details I am handling those queries with John and we hope to settle it amicably.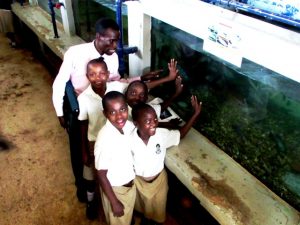 In this month of November, we had primary school tours. The lower Primary Pre-School to P.3 went to Ripon Falls in Jinja, Frankie Kids Centre and the boat riding section. The little ones enjoyed as they were closely monitored by the teachers and Mama Agnes. They carried extra clothes for swimming and playing. Though they came back tired and worn out, they at least had a wonderful day. While the Upper Primary classes P.4 to P.7 went to Tororo Cement factory, Kibimba Rice, one of the biggest in Eastern Uganda, they also went to Busia border post to see what takes place at a border crossing and finally to one of the beaches called Sangalo. These were joined by some Secondary students who had finished their national exams. They too had fun but theirs was mainly an academic tour. We thank the Head Teacher and his team for organizing these tours. We never had any hitches from both tours.
Bobbi Palmer has continued from strength to strength with the Women's Bible studies every Tuesday. She shared with the women that after 20 solid years, someone she had been praying for finally gave his life to Jesus. This necessitated some kind of celebration. She bought sodas for the women staff to appreciate them for standing with her in prayer. Bobbi is great source of inspiration to the women at Lulwanda. We pray that God continues to empower her with wisdom and discernment. Amen!!!
Ryan Kelley and Megan are such a wonderful missionary family. Almost every day, Ryan is at Lulwanda to see how the children are faring medically. He walks around to see how the staff are doing health wise as well. He has driven to St. Paul's College and Nabumali High School to pick up sick children and take them to either Joy Hospice or the Dental clinics for tooth related issues. He is also slowly learning the Ugandan culture, expectations and of course learning some Luganda language. Ryan, we love you and will always support you in whatever way we can. I am proud to say that I now have two American brothers all the way from Georgia because we work as a team.
I have completed three years as Administrator having assumed that office on August 12th 2013. The beginning was not an easy one given what had transpired but through perseverance and God's guidance, I have managed somehow. I thank the G.I.C.F USA Board for giving me and my family this opportunity to serve the vulnerable children of Lulwanda Children's Home. May I also convey my gratitude to the leadership of Local Management Committee for the supervision and making sure that policies of both G.I.C.F USA and government are followed. Things are moving on well over here and we are making progress in all aspects. The major challenge is the growing number of adolescents among the children- a disturbing stage if not well handled. However, since am not alone, together as a team we shall be able to contain the situation through love, counseling, education and showing parental care. Please continue to pray for me because looking after 118 children and a staff of 46 is no mean task.
Future plans:
Continue to show love and support to the children.
Pick up the secondary students from the various boarding schools and bring them home.
Prepare to receive the Global Journey team that will celebrate Christmas with us.
Hold a Local Management Committee meeting.
Traverse the villages and bring in 05 children.
Celebrate the birth of Jesus Christ.
Ø  Prepare to receive the Grace Fellowship team in late December.
I WISH YOU ALL A MERRY CHRISTMAS AND A HAPPY NEW YEAR 2017.
Blessings
In His Name
MUSAGALA SIMON PETER
Administrator