We greet you in the Name of our Lord and Savior Jesus Christ. We as Lulwanda family send you our warm and lovely hugs and kisses. We love you and miss you dearly. We are fine and the Lord has blessed us with life, joy, good health, grace, mercy and loving kindness. We just say EBENEZER!
The children are fine and ready to study harder in the various classes to come up with very good grades so that they can be promoted to the next level. For those in Secondary schools, we bought for them scholastic materials and the necessary household items that make them to study comfortably without any worries. On behalf of these children am grateful to G.I.C.F USA for the financial support and sponsorship programs that you send over to us. Without such support, the education of these children would have remained wishful thinking.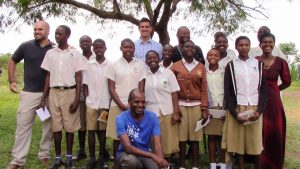 In October we had several children sit for their National exams. We need your prayers that the whole exercise will go on smoothly right from preparations, the actual seating, the marking, awarding of marks and the tabulation process up to the time of releasing final grades. We had 13 in Primary Seven, 12 in S.4 and 07 in S.6. The details can be seen in these tables below;
       LULWANDA CHILDREN'S HOME PRIMARY SCHOOL –   P.7 CLASS 2016
S/N
                 NAMES
                   GENDER
01.
GIFT              NALUBOKA
                       GIRL
02.
PHEOBE       NAMBOZO
                           "
03.
HELLEN         NAMULINDA
                           "
04.
ROSE   SEFULOZA   NAULA
                           "
05
NORAH         MASAI
                           "
06.
JACKLINE     NGWABE
                           "
07.
EGULANSI   ADONG
                           "
08.
DONAH       NADUNGA
                           "
09.
ALAFAT       GIZAMBALI
                         BOY
10.
TIMOTHY     WANDIBA
                           "
11.
BRIAN           WEBISA
                           "
12.
VINCENT     WANANTSOFU
                           "
13.
WILLY           WAMONO
                           "
             TOTAL
                         13
While for those in Secondary schools the distribution is as follows per class and the respective schools where they sat their examinations:
                                       SECONDARY SCHOOLS' CANDIDATES OF S.4 AND S.6 2016
         NAME OF CHILD
     NAME OF THE SCHOOL
CLASS
   GENDER
01.
BRENDAH                  BABIRYE
ST. MARY'S COLLEGE, LUGAZI
   S.4
     GIRL
02.
PHIONA                    WASAGALI
                           "
   S.4
         "
03.
AIDAH                        KAKAYI
                           "
   S.4
         "
04.
DINNAH                    NAMBOZO
                           "
   S.4
         "
05.
BRENDA    CAROL   NABWIRE
                           "
   S.4
         "
06.
MALIZA                      MUTENYO
                           "
   S.4
         "
07.
BRENDA                    NAMAKOYE
                           "
   S.4
         "
08.
BEATRICE                  NAMBOZO
MAKHAI SEED SEC.  SCHOOL
   S.4
         "
09.
PETER    DAVID        YEKO
ST.MARY'S COLLEGE, LUGAZI
   S.4
     BOY
10.
DAVID      LUCKY      MUDALI
ST.MARY'S COLLEGE, LUGAZI
   S.4
         "
11.
ISAAC                        WATELO
MAKHAI SEED SEC. SCHOOL
   S.4
         "
12.
BERNARD                  WOMELI
MAKHAI SEED SEC. SCHOOL
   S.4
         "
           SUB TOTAL
   12
B=04   G=08
01.
ALLEN                        MUHIJJA
ST.PAUL'S COLLEGE, MBALE
   S.6
       GIRL
02.
MERCY                      CHEKWEMBOI
                           "
   S.6
         "
03.
DOREEN                    KIBUKUNA
                           "
   S.6
         "
04.
SYLIVIA                      LOGOSE
                           "
   S.6
        "
05.
IVAN                          KULOBA
                           "
   S.6
     BOY
06.
ANTHONY                WANZALA
ST. MARY'S COLLEGE, LUGAZI
   S.6
         "
07.
EMMA                      OCAYA
                             "
   S.6
         "
             SUB   TOTAL
   07
B=02   G=05
I am glad to inform you that all the school dues for the above mentioned children were paid in full. Again great appreciation goes to G.I.C.F USA, the individual child sponsors and donors alike for the financial sacrifices that you extend to us.
Natalie left for the United States on October 10th for good. We as staff and children greatly miss her presence and agility in serving the children. She was escorted to the airport by a team of nine children and Teacher Favor together with Enoch the driver. It was a stressful time for the children saying goodbye at the airport and on their way back. We have endeavored to counsel them and give them hope. We wish Natalie good health, happiness, love, and God's blessings. I know that she also misses Lulwanda a great deal and we just thank God for everything.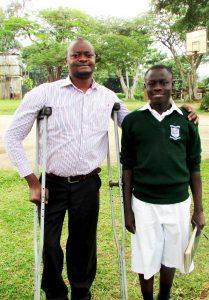 Secondary School visitation was yet another highlight in the month of October. We visited the children in Nabumali High school. St. Paul's College Mbale, St. Mary's College, Lugazi and Tororo Girls' school. We took for them scholastic materials, foods beverages, households, pocket money for upkeep. The children are working harder to better their grades. We normally counsel and encourage the weaker ones. The Social Workers always make an in-depth discussion with individual children to see that they don't just put the school fees to waste. We also have discussions with subject teachers to see how to improve the grades of our children. We have bought for them a score of textbooks for individual reading and practice and above all, we encourage them to have and join discussion groups.
We had an assessment about the progress of the Children's Home by the Ministry of Gender Labor and Social Development representative in conjunction with District Probation Officials, Child Fund and District Health Office. This is a routine six monthly assessment mandatory for all Child Care Institutions (CCIs) in Uganda. From the last inspection of January 2016, our scores are improving greatly in terms of policies, children's documentation, care facilities and children's health. The assessment team was very satisfied with the progress and future plans of Lulwanda.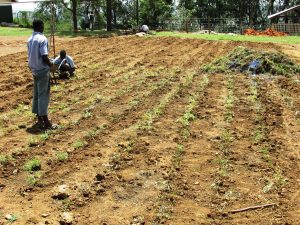 Compound beautification is on course at Lulwanda. We are planting grass in the places we had dumped soils to improve on the serenity of the environment. As the rains continue, we anticipate that the grass will grow and this will give us green cover. We also use water from the borehole to sprinkle on the grass in case it has not rained. We thank the donors who gave us the money for capital development. We pray and hope that once this grass grows, it will give us a lush green look that will match with paintings on the buildings.
Betty, the accountant gave birth on the 25th October to a baby boy. Mother and the baby are well. Congratulations!!
We are in the process of hiring a general farm manager who will oversee the work at Namajje farm and also the animal section at Lulwanda. Pray for us as we seek a hard-working, experienced, God fearing and honest person.
This month climaxed with the dedication our P.7 class candidates for their National exams on October 28th.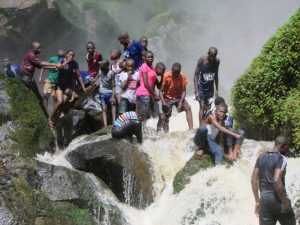 We had the ceremony in Bulolelo Presbyterian Church. Worship songs were sung, prayer intercessions were held, we had speeches and words of encouragement from many teachers and Lulwanda leadership. The children then proceeded to Sisiyi falls followed by a visit to Ryan's home for a sumptuous luncheon and a celebration cake. All went well with a lot of excitement and fanfare.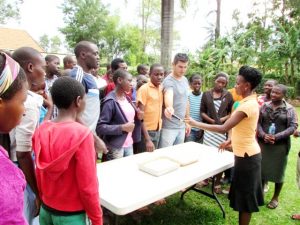 Blessings
In His Name
MUSAGALA SIMON PETER
Administrator