We are blessed to have another family serving at Lulwanda. In August 2016, Ryan and Megan Kelley and their 4 children moved to Uganda and a new life. As they prepared to move to Uganda, they made a short video (click here) which describes why they decided to take this huge step forward in faith.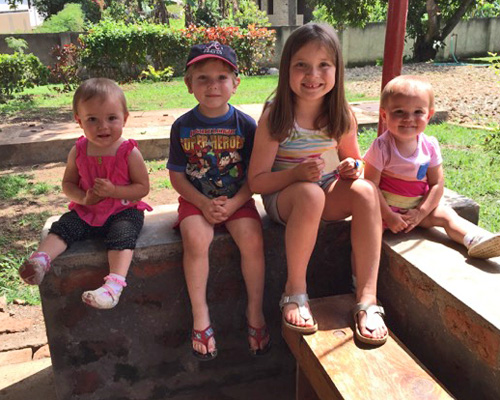 For many years God has been moving in Ryan and Megan Kelley's hearts to serve Him overseas as missionaries. They had been viewing this as a "later in life" calling, but just over a year ago they felt the Holy Spirit saying that the time to act had come. They contacted GICF to see if it was possible to pursue serving at Lulwanda where their dear friends John and Bobbi Palmer had gone to serve. Ryan's skills as an advanced Emergency Medical Technician could surely fill a great need we have to get our medical clinic up and running again. And with the passion they both have for youth discipleship, the Kelleys appeared to be an answer to our prayers.
The Kelleys spent August of 2015 living in Mbale, Uganda while serving at Lulwanda Children's Home. This gave them a very close look at what life would be like for their family to live there full time. The Kelleys have 4 young children; Audrey is 8, Simon is 5 and Lucy and Norah are twin 3 year olds!
As a result of this trip, the whole Kelley family decided that they would answer the call of the Lord and return to Uganda to serve Him full time as self-funded missionaries at Lulwanda.
You can learn more about the Kelleys on their blog site (click here). Please pray for them as they continue to adapt to their new home.
Should you wish to provide tax-deductible financial support to the Kelley family, please make checks payable to Grace International Children's Foundation, and be sure to write "Miss. Med." in the memo line (stands for Missionary Support – Medical Officer). As required by the IRS, all contributions are solicited with the understanding that Grace International Children's Foundation has complete control and discretion over the use of all donated funds. These donations are tax-deductible in the USA, and tax receipt letters are issued annually. Click here to learn more about financial accountability at GICF.
Checks should please be mailed to:
Grace International Children's Foundation
5121 FM 359
Richmond, Texas 77406
You may also provide financial support using your credit card online, it's easy and safe. Click below to transfer to a secure server at CharityProud, the service provider we utilize. MasterCard, Visa and American Express credit cards are accepted, or you can pay via your PayPal account. You have the choice to make a one time donation or set up a recurring payment. Please select "Missionary Support: Kelley" in the pull down Designation menu. Tax receipts are issued by email immediately after donating.