A Letter from our Chairman
Dear Friends,
I am writing today to tell you about something that is happening at Lulwanda Children's Home in Mbale, Uganda. Since its opening in 2004, Lulwanda Children's Home has continued to flourish, and we are able to love, feed, educate and nurture 125 children and bring them up with Christian values and ethics. For this we are sincerely grateful.
After much prayer and seeking of God's will, we are initiating an ambitious campaign at Lulwanda Children's Home to move from a dormitory model of housing to a 'village of homes' model on the existing campus. This "village" will ultimately be comprised of 8 individual homes, built over a three-year period, where the younger children, aged 3-12, will live in a family environment of 10 children per home. They will learn to cook, clean, do laundry and contribute in a way that will prepare them best for life after they leave the doors of Lulwanda Children's Home. The estimated cost to construct these homes with necessary infrastructure totals $600,000.
To that end, we are announcing our "Building for the Future" Campaign. A generous donor has contacted us and plans to contribute $300,000 towards this campaign with a challenge to our other supporters to equal their gift. Our goal is to raise the second $300,000 by year-end, 2018. That is 8 months from now!
Please prayerfully consider whether God is calling you to join us in "Building for the Future" at Lulwanda Children's Home. As always, you can donate online at www.ugandaorphans.org or mail a contribution to GICF, 5121 FM 359, Richmond, Texas, 77406. You will find a more thorough description of the 'village of homes' living concept attached. Please contact us at psalm82.3@ugandaorphans.org with any questions – our team of volunteers is ready to answer any questions you may have.
Thank you, in advance, for your consideration. This is a new and exciting direction for GICF and Lulwanda, and we would be delighted to have you partner with us!
To God be all the glory.
Faithfully yours,
Larry Hoelscher
Chairman/President
New Architectural Renderings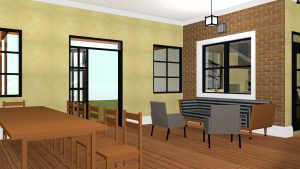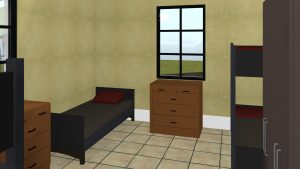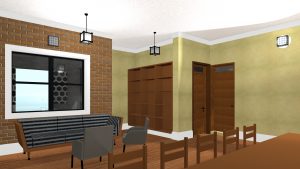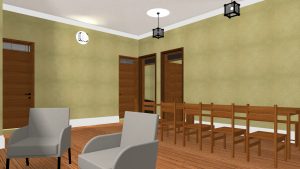 More Details
Lulwanda Children's Home plans on building seven (7) smaller homes on our existing campus and remodel one of our dorms into a home floorplan for a total of 8 homes each housing 10-12 children per home based upon funding. Two existing dorms will remain to house our older children resulting in a campus capacity of over 120 beds.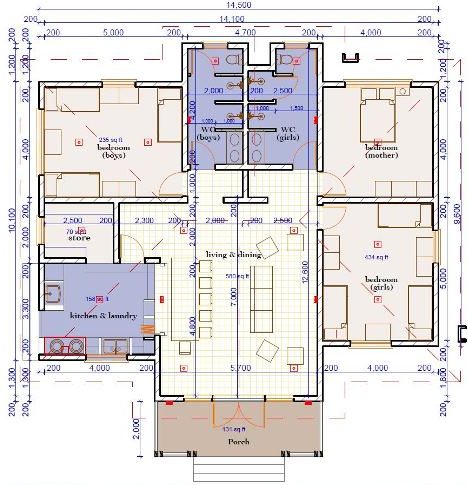 CLICK HERE for Larger View of Floorplan
As funding allows, we plan to build seven (7) houses and remodel one (1) dorm over the next three year period. Additional campus improvements like complete solar power for all buildings and improvements to water and sewage are included in this campaign. Our goal in 2018 is to raise the funds for a capital campaign that totals $600,000. We are over half way toward that goal based upon pledges and donations that have already been received. Please join us in this capital campaign to transform Lulwanda for the future.
If you wish to make a donation and join us in this new phase at Lulwanda, you may mail us a check with "Building for the Future" in the memo (see Contact Us for mailing address) or CLICK HERE to donate online with a credit card or PayPal. All donations are tax-deductible and tax receipts will be issued.