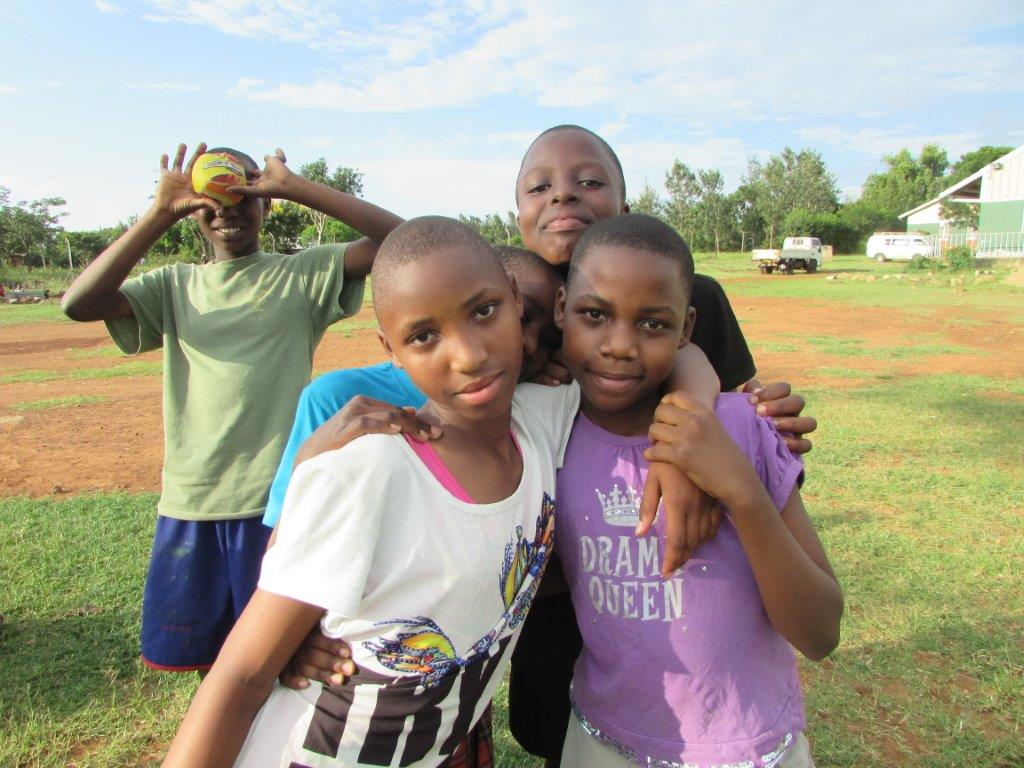 CHILDREN WELFARE
All our children are healthy. We ensured that all our children completed the last dose of Hepatitis B as well as treating other illnesses. Ryan is continuing to streamline our on-site record keeping for vaccinations, testing and treatment. In addition to our health partners like Joy Hospice and Avicenna for dental issues, we are in the process of partnering with Metralco Pharmacy in Mbale town to allow us purchase medicines and be billed at the end of the month. We are doing all this to improve the health welfare of our children.
We have ensured that our children get quality and nutritious food. Our staff members have continued to show love and everybody is committed to ensure safety of the children. We are planning to set up a committee of children and staff to look into changing our menu. The laundry staff members have ensured that children's clothes are clean and the dorm mothers teach the children do their personal chores.
TOP MANAGEMENT MEETINGS
We have embarked on holding management meetings on a weekly basis as a way of improving service delivery to the children and proper management of staff and proper use of Lulwanda property. Each week, head of departments organize departmental meetings where activities of the week are drawn and implemented. The report is forwarded to the Top management committee for review and recommendation. The committee includes the Administrator- Paul, John Palmer, Ryan Kelly, Osama Eid, William Wamoni, and Betty Mutuwa.
In our meetings, we have been able to discuss some recent discipline issues of the children. Consequences were provided to help these specific children learn from their mistakes and set them on the right path. Also, during this recent holiday, we have had to place restrictions on a few channels our children were viewing due to the type of music and movies that were being broadcast. Some specific children found a way around this restriction so we placed further restrictions and removed television privileges for this holiday.
VISITORS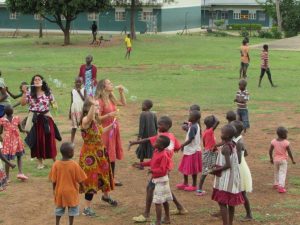 Once again, we were blessed to receive the team from Cross Connection Church-Houston. They had a brief tour of Lulwanda home on the first day and later interacted with the children through games. The children had a presentation through singing and dancing. It was especially l fun when the visitors took to the floor to dance with the staff members.
We also received visitors courtesy of Mama Aida. We had Rev. Joseph Kiirya and his family from River Jordan Ministries- Canada. Accompanying them was a gospel Artist in Uganda called Betty Namaganda and her husband, Ssenyonjo, from Omega Healing Centre Kampala. Rev. Joseph Kirya introduced his family and appealed to the children to grow in the knowledge and fear of God. Betty Namaganda equally introduced her husband and encouraged the children and staff to keep their bodies pure in order to serve the Lord well. She promised to bring her daughter-baby Gloria who is now 14yrs to have presentations for Lulwanda children. Baby Gloria started producing gospel songs at the age of 4yrs and right now she is being hired by several companies to advertise their products in Uganda. Betty Namaganda excited the children and staff when she sang the song entitled 'God you are my song'. This song is in the local language and it's loved by all Ugandan Christians.
EDUCATION
All Tendo children joined the University or Trade Schools and they have already reported for studies. As a reminder, Anthony Wanzala is undertaking Bachelor's Degree in Water Engineering, Ivan kuloba Bachelors in Human Resource, Sylivia Logose and Allen Muhijja both are undertaking Bachelors in Social Work and Social administration, Mercy Chwekwemboi offering Bachelors in Industrial Fine Art, Doreen Kibukuna is offering Bachelors in Business Administration while Emma Ocaya is offering a one year Diploma in Law and then he will enroll for Degree next year in September 2018.
Rita Khaitsa and Zulufa Nambuya have been admitted for diplomas in Business administration and Hotel Management respectively. I would like to thank God for taking our children to that level and even our donors for your financial support. We have purchased ten laptops from Kampala and given to all children joining university and tertiary institutions.
Secondary children have returned to Lulwanda for the holidays and we learned of their academic performance. We discovered some children had good grades while others needed extra effort to improve their grades. Maliza Mutenyo from St. Mary's college in senior five performed well with 18 points and if such a grade is maintained in final exams of senior six, she will be taken to the University on a government sponsor. Let's continue praying for her good performance. Other children like Abel Musoba, John Mutoshi, Anthony Wojjambuka, Gift Naluboka have continued to perform well scoring Division one. We have encouraged our children to perform better if they are to continue to the next level of higher education. We have started assessment on annual basis and those with poor grades will be advised to branch to trade schools the following year. All our children are aware of the Lulwanda performance standards format.
HOLIDAY PROGRAMME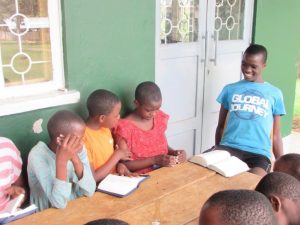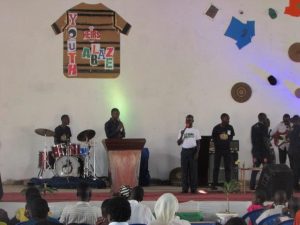 The programme for this holiday has been tight and our children have been involved in a number of activities. Our children were involved in farming as a way of learning life skills. The farm manager and Uncle John taught children how to plant Napier grass and prepare nursery bed. Some of the knowledge gained will help our children to answer questions in exams.
Children had special classes like learning how to drive by Uncle John, cooking by maama Joy, playing guitar, volleyball, rugby and piano among other many activities.
We had fellowship and bible study classes every Tuesday and Thursday. Each day we had the same topic shared by the staff members to all groups. The topics included, having devotional time, call to be different, commitment to Christ, handling anger. This should help to change the attitude of our children by learning more Christian values and reflecting on the love God.
All secondary children attended a one week Youth Ablaze Conference at Pearl Heaven Church-Mbale. The theme was 'Heirs of God'. Romans 8:17. The youth were taken through the process of salvation basing on Romans 8:28-30.The youth were grouped according to age and class. In these small groups, they had prayers, praise and worship and sharing the word of God. Later they were given opportunity to ask questions and share the daily life experience. At the end of the smaller groups they converged together to share knowledge and experience learnt from the groups. The youth including Lulwanda children donated blood to the Red Cross. The conference was summed up by going for the prayer mountain service at Kakungulu hills near Mbale town.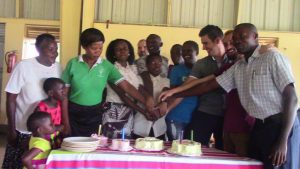 BIRTH DAY PARTY
We had a birthday party for the children and staff in the main hall. Secondary children helped in organizing the party and the function was very colorful. They decorated the main hall, designing birthday cards and wrapping the gifts. The function was characterized by entertainment from the children like dancing, singing, bible quiz, arm wrestling, speeches, cutting the cake, giving gifts and serving soda.
TENDO CHILDREN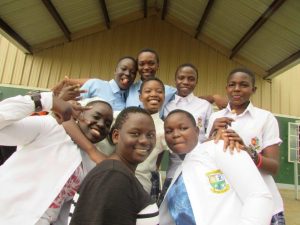 The recently re-integrated children have been sent to Tendo to learn more practical life skills. We had a meeting together with the children. In this meeting we discussed the home rules and we urged every child to obey them. We bought for them new mattress, beds, blankets, bed sheets, towels and other personal effects. All children were happy to be at Tendo and so far they are doing well. There are several new structural improvements that we have needed to do at Tendo and are expected to implement.
CHARITY FOOTBALL TOURNAMENT
Our football team organized by Uncle Osama participated in the charitable football tournament which took place at cricket ground-Mbale. This was our first time to participate in this tournament which was composed of thirty two teams. Our children were able to expose their talents and we believe this will be one of the avenues for selecting the talented children to play in different football clubs.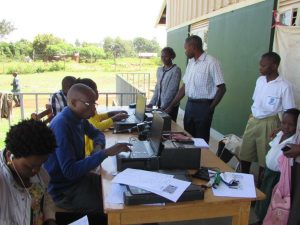 NATIONAL IDENTITY CARD REGISTRATION
There is a new government policy that all school going children need to register for national identity card. Most of our children have registered and few secondary children failed to register due to different reasons. We are in the process of taking them to the Registration Centre in Mbale town to acquire their registration.
CONCLUSION
I thank God for our beloved sponsors and donors for the tireless effort in helping these orphans. Surely without your support the dreams of our little children would be in vain. Special thanks goes to the GICF board for good planning and ensuring that our children reach full potential. Thank you for your love and care for all the children.
Blessings,
Paul Isabirye
Administrator