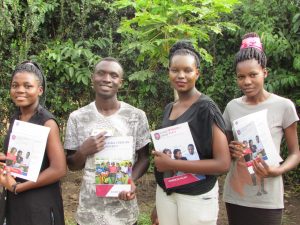 Greetings in the mighty name of Our Lord Jesus Christ. We are so much grateful for all the financial, material and spiritual support rendered to us. Lulwanda is striving forward because of the support you give us. You have made our Children to smile and we thank God for everything. Let the good Lord who started this work in you give you the ability to accomplish to the end.
John Palmer, Ryan Kelly together with their family members are on leave for one month. We received a report that they all reached safely in USA. It's a blessing to work with these two lovely families. Lots of activities took place this month and allow me to point out some key notable issues.
HEALTH
All our Children are in good health due to balanced diet and proper medical care. The few cases of malaria were tested and treated to full recovery without the need for hospitalization. Other illness like wounds were equally treated and managed. We had visitors from USA, Edmund Kim and his two children Leah Kim and Lucas Kim. They donated to us first Aid medical supplies. Plans are under way to immunize Lulwanda Children and staff against typhoid when Ryan comes back in August. This family is related to the surgeon in US where Ryan first worked before coming to Uganda. Amelia Claire (a lady from US but currently living in South Africa) visited us and helped in various ways at the clinic. She played with kids and showed them love.
EDUCATION
We are in the middle of the school term and all is going well. We had visitation day for St. Mary's Children on 25/06/2017. We bought for them a number of items which included drinks, food and scholastic materials. We also completed the last payment of school fees for St. Mary's Children. They were counseled on good performance and behavioral change. We shall have similar visitation days in the coming month. We bought text books and other reading materials to our Children in Secondary as a way of helping them perform better. We paid money for school academic trips like Geography, Entrepreneurship, Fine Art and Literature workshop in different Secondary School.
John Mutsoshi (boarding in St. Mary's College) made us proud by being elected the head monitor 2017-2018. He campaigned with two other students and won by scoring 650 votes while the second scored 530 votes and the third scored 410 votes. He is in charge of all the prefects welfare and class captains. John has leadership skills and he is liked by many students. This post has enabled him to interact with the visiting prefects across countries like South Africa. John has the ambition of becoming a politician in future.
Tendo Children have been officially admitted at the university and reporting date is 30th August 2017.
| | | | |
| --- | --- | --- | --- |
| NAME | PROGRAMME | UNIVERSITY | DURATION |
| MERCY CHEKWEMBOI | Bachelor of Industrial and Fine Art | UCU Mukono | 3years |
| DOREEN KIBUKUNA | Bachelor of Business Administration | UCU Mukono | 3years |
| EMMA OCAYA | Bachelor of Mass Communication | UCU- Mukono | 3years |
| SYLIVIA LOGOSE | Bachelor of Social Works and Social Administration | UCU –Mbale | 3years |
| ALLEN MUHIJA | Bachelor of Social Works and Social Administration | UCU Mbale | 3years |
| IVAN KULOBA | Bachelor of Human Resource Management | UCU Mbale | 3 years |
Emma Ocaya had applied for Law as his first choice and instead he was given Mass Communication as the second choice. Emma's ambition is to become a lawyer and we are trying to apply to another University to see that he can be given Law. We are still waiting for the results of Anthony Wanzala who applied for medicine at two different Universities ( Gulu and Busitema).The University requires that every student MUST report with a laptop so we are working to procure these.
Lulwanda Primary School has enrolled the new children rescued last month. Sophia Mutonyi was admitted in P.1 while Patricia Nakhumitsa in Top class. They are all happy and adapting very well to School environment. The School has enrolled 16 new community Children and registered 15 candidates for Primary leaving examination 2017. The school is busy training for a music competition at sub-county level.
FARM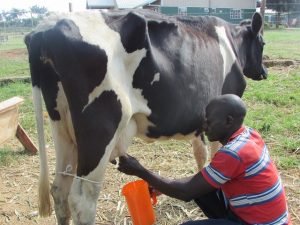 The fish fries have grown to the size of fingerlings and need to be transferred to the main fish pond. However our biggest challenge is the low water levels at Namajje farm which can't sustain well the fish growth. We sold 14 pigs of different size and we were able to raise UGX 790000= (Seven hundred ninety thousand shillings). One of the exotic pigs (large white with red ear tag) gave birth to seven piglets. After birth it was treated against agalactia and anemia. The milk production is going up; In May we had 390 litres while this June 733 litres. We planted grass (Napier) but it has died due to dry spell. We need to re-plant as the rains increase. We harvested the maize at Namajje and right now we are sun drying. In the middle of this week, we shall be harvesting the maize from Lulwanda garden. We have planted 45kgs of beans at Namajje and hopefully the yield will be good.
SOCIAL WORK
We have started assessment of the 16 Children who are on transition to Tendo by August 2017. The full list of names for reintegration shall be sent in the next report. Assessment of the next intake of new Children who need to be rescued is ongoing.
URA
Uganda Revenue Authority re-opened an old issue and sent us a demand note for income tax amounting to UGX forty four million shillings [about $12,000]. This is a penalty for failing to file returns for the period 2009-2014, and failing to declare the "income" of donations from GICF USA. There is a law that all organization and companies must file returns to URA every month, including charity NGO's such as LCH. Before John Palmer left to USA, we engaged a professional Auditor and Accountant called to assess and negotiate with URA officials. Right now we have applied for tax exemption (just as all NGOs are doing) and hopefully all shall be successful. We have requested the Ministry of Gender, Labor and Social Development to give a recommendation letter needed by URA.
VISITING TEAMS
I have received communication from Mike Thrasher that he will be visiting Lulwanda Children's Home together with his team from 2nd -12th July 2017. He gave us a copy of his program and basically they will be helping Teachers to be equipped with the necessary knowledge and skills of teaching science.
The Chairman of the GICF Board Mr. Larry will be visiting us after the Thrasher Team. We are happily waiting to receive him. It's our prayers that God may provide the necessary logistics in preparation for the journey.
Thanks,
Yours faithfully,
​​
PAUL ISABIRYE
INTERIM ADMINISTRATOR
Patricia in class
Sophia in class