Happy new year to you all and special greetings from the little Children of Lulwanda. We are grateful to the Almighty God for letting us complete the year well amidst the challenges of covid-19. Praying that this new year 2022, all of us receive the Divine blessings and Mercy of God. Below are some of the activities of the month.
MEDICAL REPORT
January was overall a good month for Lulwanda health-wise. There was an increase in malaria cases; however, all have been treated and recovered. This month 116 patients were seen at the clinic on site. It is staffed by our very talented and loving nurse, Gloria. These patients are staff, close staff relatives, and home children. This month 63 malaria tests were conducted, of which 37 were positive. Efforts to reduce malaria (fumigation, sleeping under nets, etc.) are not always 100 percent effective but will be continually valuable in our efforts to keep malaria rates lower. Fifty patients were seen for flu and cough. The remaining patients were seen for relatively minor complaints. The children are dewormed quarterly, which was done on January 25th. In addition, oral polio vaccines were given to children under five years via a government program to combat polio. We are unsure if the flu and cough rates were a common cold or Covid related, but now patients have recovered, and cases are decreasing in Uganda. Thank you for your continued prayers and support of the children and their health.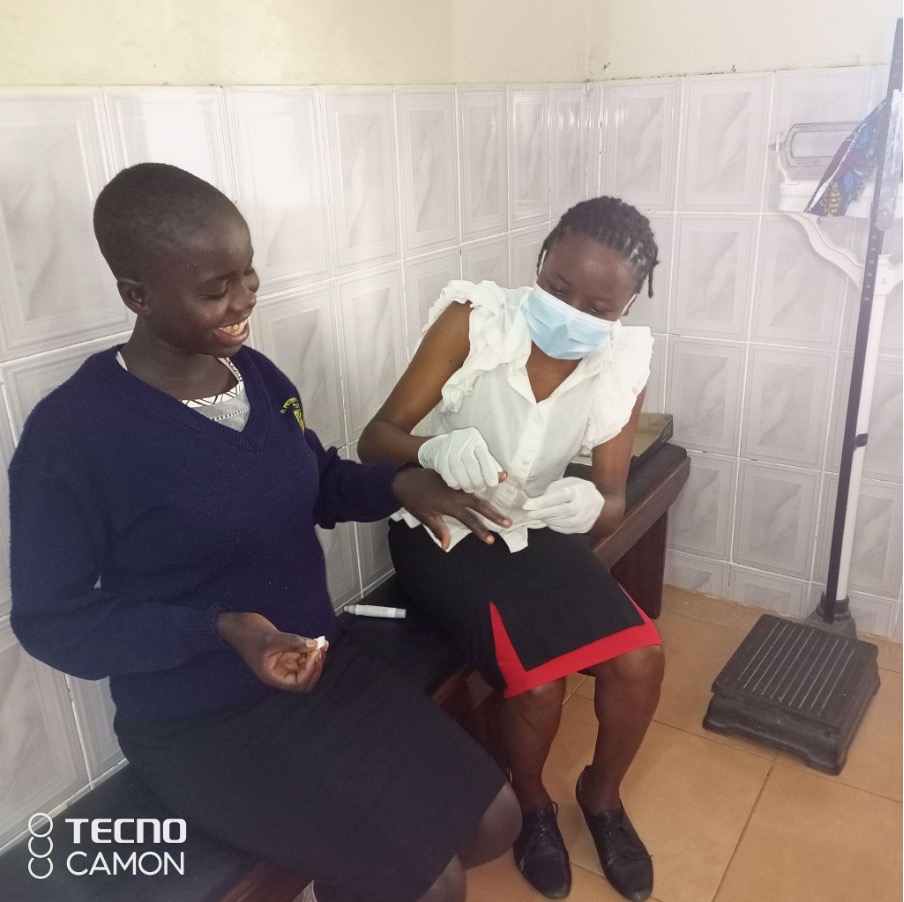 Nurse Faith Gloria getting blood samples from Mary Nambozo for malaria testing.
DISCIPLESHIP REPORT
Discipleship has been a combined effort at home, on-site, and digital (on line) this month. Children have now safely reported back from social bonding and continued with discipleship as previously conducted. Daily devotionals and songs are sent out digitally, with Bible studies sent out once weekly. Within our digital platform, we studied the life of Abraham and how God wants us to respond to His Word. Our youth hunger for the Lord and know Him through His eternal Word. May this year be as fruitful as the last, for we desire not mere numbers but hearts changed and transformed by the power of the Gospel of Jesus Christ. Glory be to the eternal Triune God. Please continue to pray for our children's hearts and that the Holy Spirit is at work in their hearts. Pray for Pastor Martin as he resumes his teaching at home and for God to clarify the lessons and paths that He desires Pastor to teach this year. We thank you in Christ.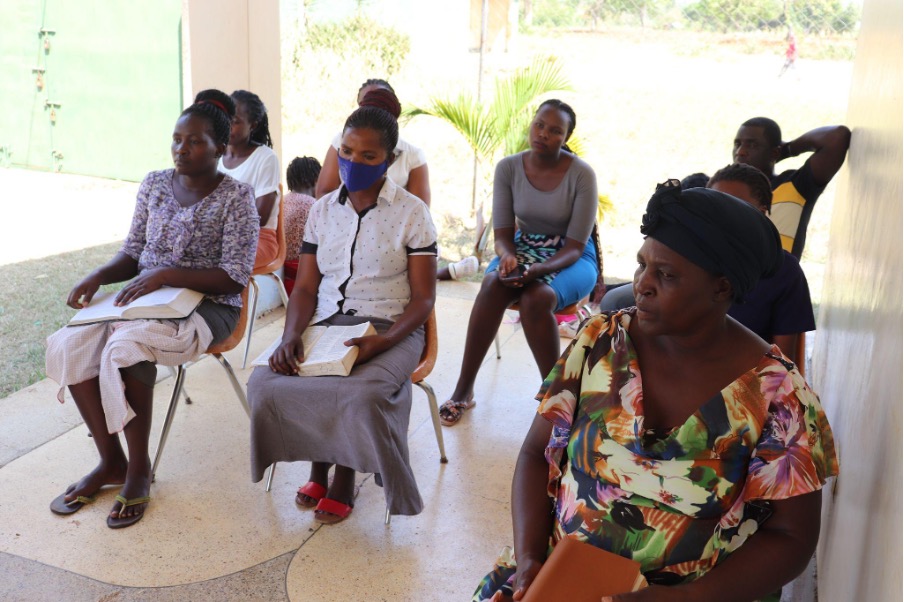 Pastor Martin leading the staff during bible study
REPORTING OF KIDS BACK FROM SOCIAL BONDING
All our Children went to their respective village last month – December 2021 – for social bonding and came back to Lulwanda at the beginning of this month. It's a requirement by the government of Uganda that all Children go back to their clan members for social bonding. When they come back the social workers always interact with Children to get more information about how the village life was, how they were treated while with the clan members, challenges, and even some interesting stories that they would love to share. However, on the day Children reported back to Lulwanda, it was unfortunate and sad to hear that Mary Nambozo had run away from home and went roaming around the village in the trading centre. Reasons for running away are not clear but this young girl has a long history of living a street life after she was abandoned by her family members. It was by God's Grace that we rescued her from this kind of life and brought her to Lulwanda. With the help of the Senior Probation Officer Bulambuli together with our social workers she was brought back to Lulwanda. Be praying for this young girl for the Lord to take control of her negative thoughts.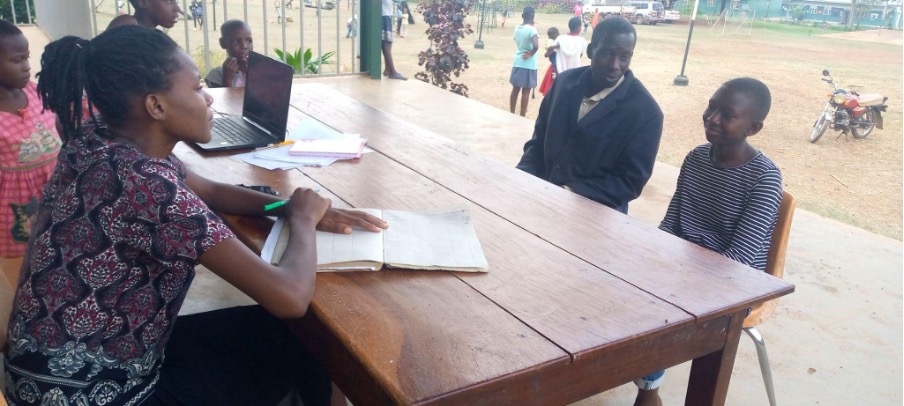 Social Worker Sylvia receives Mary Mugala together with a relative from social bonding.
OPENING UP OF SCHOOLS
With the reducing number of covid-19 cases, the government fully opened up the economy and schools have been allowed to operate fully. All school going Children have reported back to school. It was a joyous day at Lulwanda Primary School when we opened up and our Lulwanda Children were able to interact with community Children. Both teachers and students were excited to meet again and the first day was characterised by having remedial lessons, playing and having fun. We are glad that all our teachers reported back to school, because at most schools in Uganda (especially private schools) some teachers have abandoned teaching and currently are doing private business.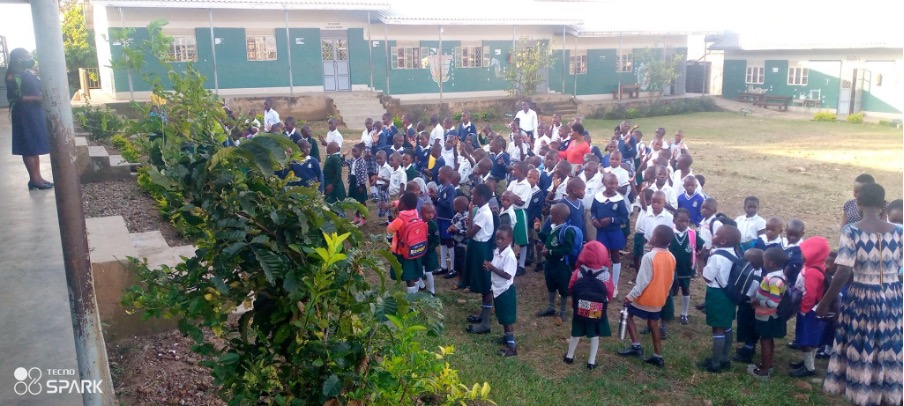 Headteacher of LPS addressing kids on the first day of reporting.
RENOVATION OF NURSERY SCHOOL AT LPS
We received funds to renovate the nursery school which was in bad shape. Renovation included extension of the Top class by breaking down the wall of the small store, installing a new floor and veranda for the middle class, and painting of the whole two blocks both inside and outside. Through P&A contractors, right now the school is shining and ready for use. We are grateful to the US Board for the provision of the funds.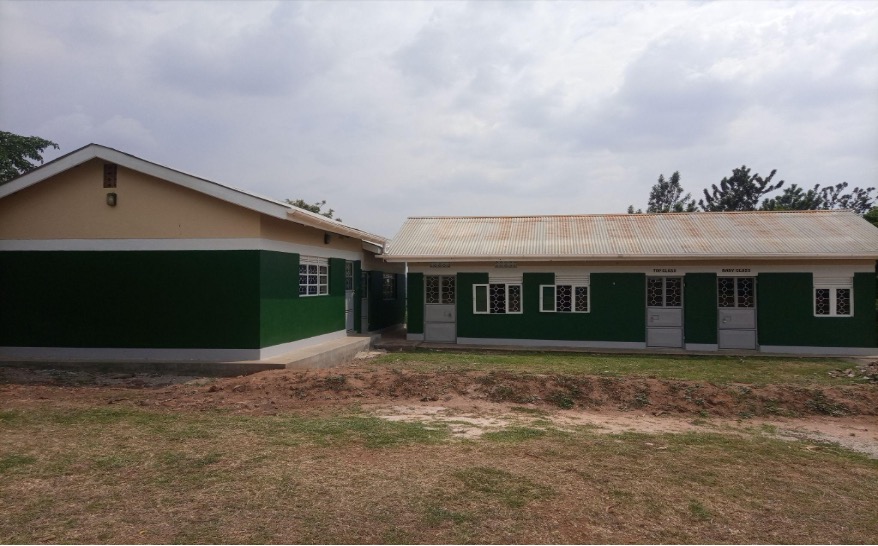 Renovated Nursery School (LPS)
SECONDARY REPORTING
All our Secondary School Children have reported back to school and it was just excitement after a long period staying at home. Students right from Nursery up to University have reported to different schools and higher institutions of learning. I am happy to report that we have cleared all the tuition payments owed. We extend our heartfelt gratitude to the almighty God and to GICF for the provision and support rendered to the children. Many of the community Children delayed to report back to their respective school and some failed because most schools wanted full payment of the tuition to be able to meet the school demands and debts which they had incurred during covid-19 period.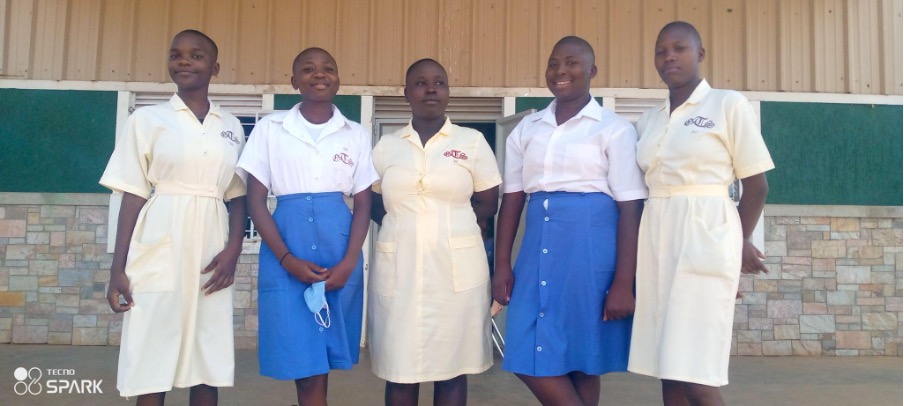 Left -Right. Marita, Mary, Robinah, Sarah Fatuma and Joyce on the day of reporting to Tororo Girls' School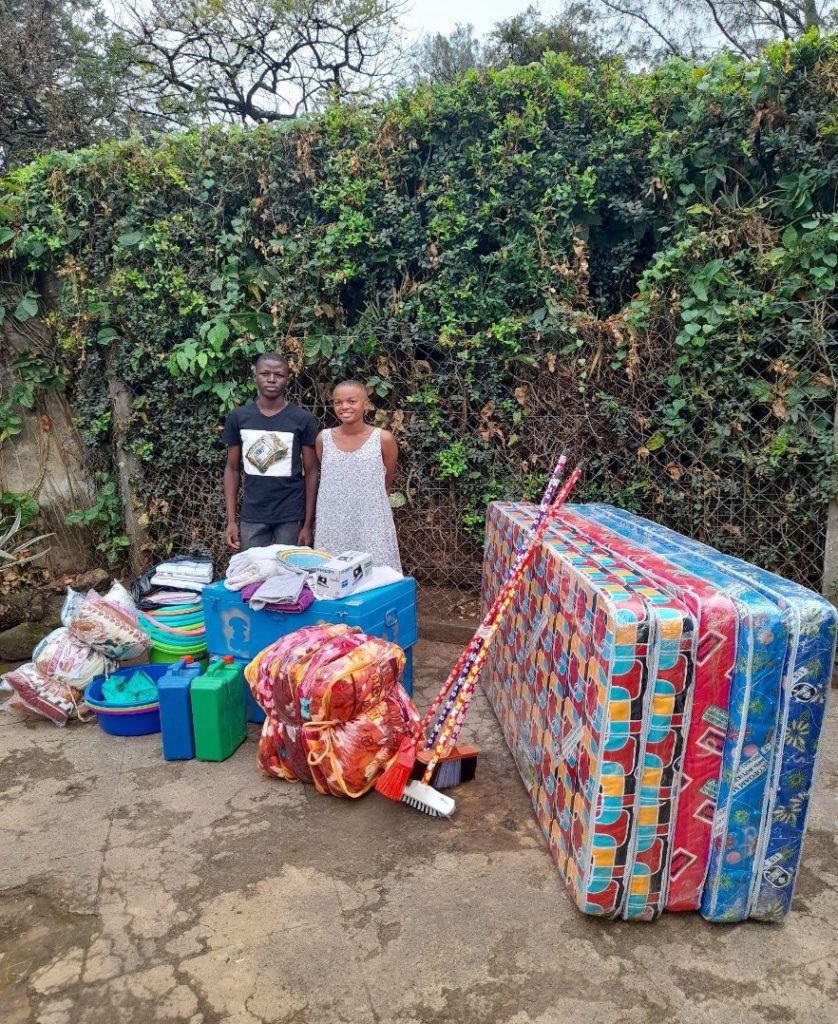 Back to school shopping — senior five
GRADUATION
We are delighted to have three students graduate from Miken Vocational Institute with certificates in different fields. Betty acquired skills in hairdressing, Wangota Michael and Mukasa Yusuf both qualified in Commercial Art and Design. They have been working hard to ensure that they get the practical knowledge and skills required for them to join the employment sector. We are grateful to the almighty God who enabled them to complete the course and still praying that they get employed in the shortest time possible.
On another note, Hellen Namulinda and Nadongo Egulansi graduated with certificates after a six-month program of study at MTAC Mbale campus. Both qualified in tailoring work and are requesting that they enrol for another six-month program in hairdressing so as to enable them set up their own business.
We hope that such Children who qualify with such skills in different fields can be potential candidates to benefit from the entrepreneurship funding after fully attending and completing the curriculum for financial management at Lulwanda. Once given and equipped with all the necessary tools, they can be self-employed and do better.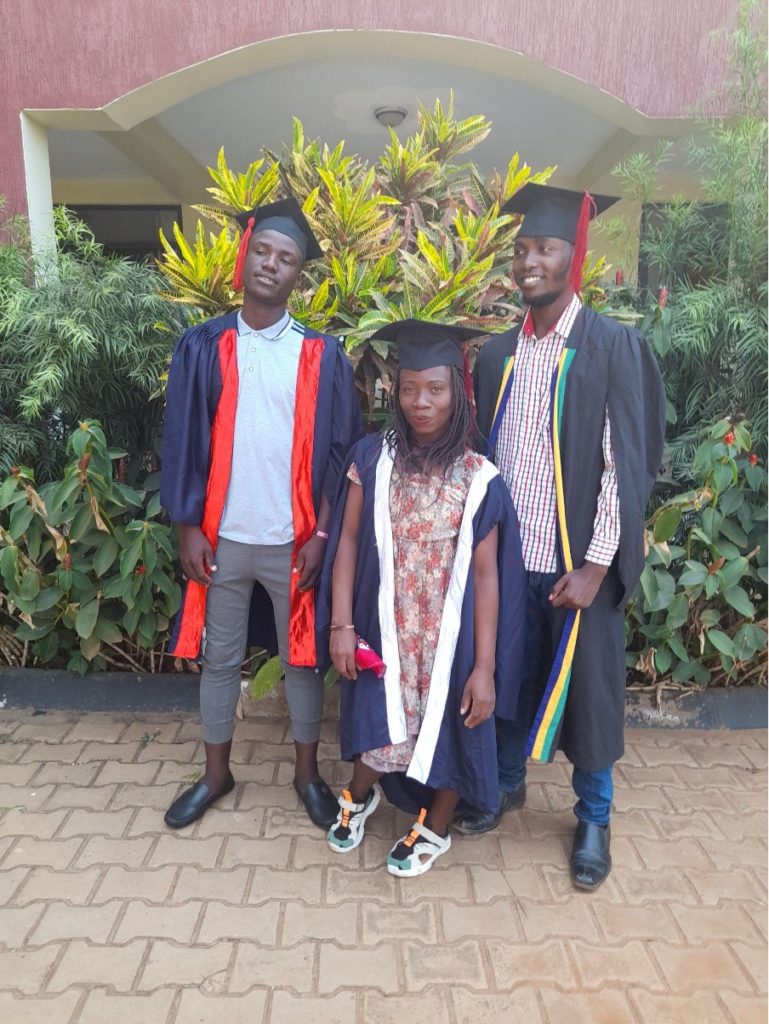 L-R Mike Wangota, Betty Namutosi, and Yusuf Mukasa on the day of graduation.
CAREER GUIDANCE AND ADMISSIONS
A number of our children who sat for Primary Leaving Examinations (PLE) and Uganda Certificate of Education (UCE) were admitted to different institutions of learning. This calls for career guidance on what subjects and courses to take in order to have the right career path. Norah Masai and Gift Naluboka, both with great potential, have joined St. Mary's college Lugazi which offers BCM (Biology, Chemistry and Maths) and MEA (Maths, Economics and Art) respectively. We are very much optimistic that Norah will be the first Lulwanda Child to become a Doctor. She is very smart and her desire is to become a neurosurgeon. Be praying for this young girl that her dreams may come to light. Marion Neboshe, Madinah Akello, Joyce Kibone and Betty Kisakye who sat for PLE joined Mbale Secondary School while Willy Wamono, Nadunga and Nambozo have joined S.5 in the same school.
Others who sat for UCE last year have joined trade school and are pursuing different courses. Jackline Ngwabe is taking Hotel Catering and Management at Christian Child care Project (CCP), and Wanatsofu Vincent is doing plumbing at CCP.
Meanwhile, Timothy Wandiba and Brian Webisa are studying at Benedictine Vocational Institute – Tororo offering Electrical Installation system and Maintenance and Plumbing respectively. Thank you very much for your support and praying that all will succeed and be able to sustain themselves.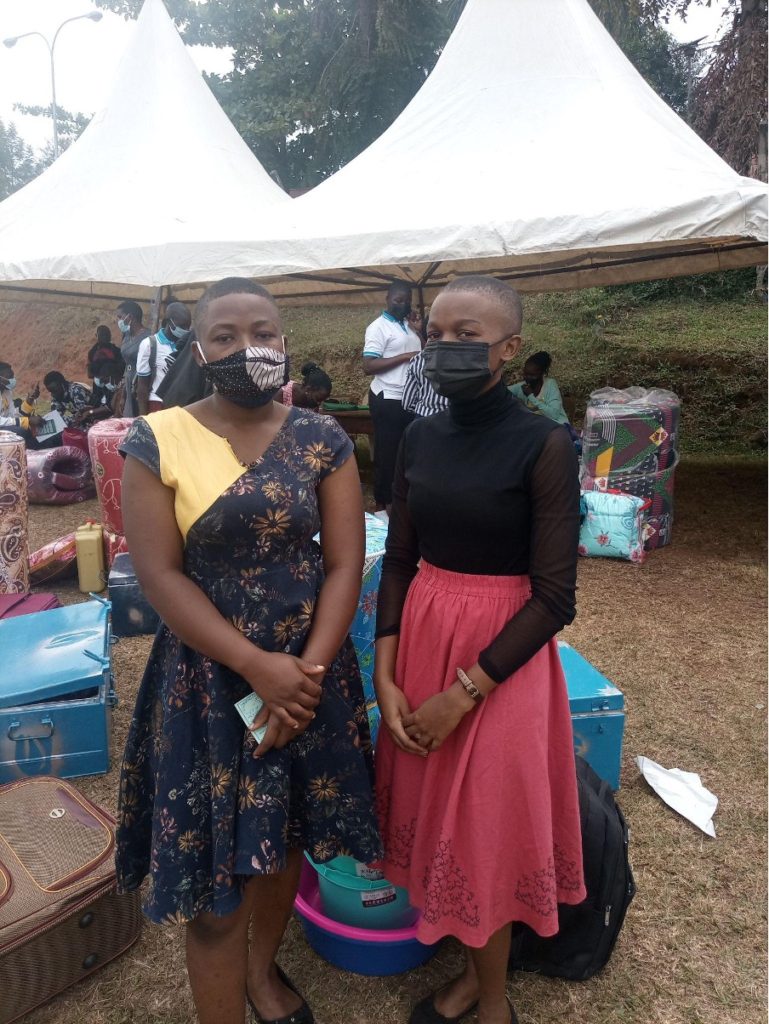 Norah and Gift on the reporting day at St.Mary's College, Lugazi
TENDO NEW ENTRANTS
This month, we have four Children that have exited Lulwanda Home and Joined Lulwanda- Tendo for the next two years. While at Lulwanda – Tendo they are trained on different skills in preparation for the final reintegration with the clan members. Here at Lulwanda – Tendo Children are given spiritual nourishment, allowed to go shopping and be able to learn bargaining skills, and also be trained on independent living while dealing with people in the community. All the new entrants are given orientation for successful completion of the two years. Anyone who falls short of the requirements will be requested to exit Lulwanda -Tendo. This year's new entrants include; Joel Gwapa, Phoebe Namono, Samuel Buyinza and Davis Namonye Davis. Each of these young adults receives some items which include towels, blankets, mattresses, pillows, buckets, basins, bedsheets and mosquito nets among others to help make their stay comfortable at Lulwanda – Tendo. We are grateful for yet another opportunity given to them to stay with the Lulwanda – Tendo family with full support.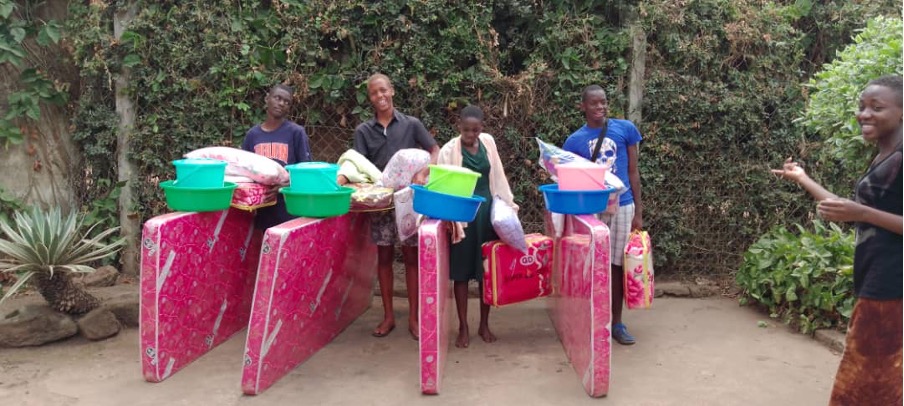 Left – Right Samwiri, Davis, Phoebe and Joel arriving at Lulwanda – Tendo and being welcomed by Mary Namubi
ANNUAL SHOPPING
It's always a huge expenditure this month as we do annual shopping for the Children. The social workers together with the house mothers come up with the budget and a list of items to be purchased and some of the items purchased include; Clothes, shoes, sandals, mattresses, bed sheets, blankets, bags and scholastic materials among others. The secondary school students are given money in the company of the social workers and house mothers to purchase clothes and shoes of their own choice and other small personal effects which is always an exciting moment.
Mama Christine has continued to purchase the weekly shopping for food and she is doing a tremendous job of cutting down the LCH food budget.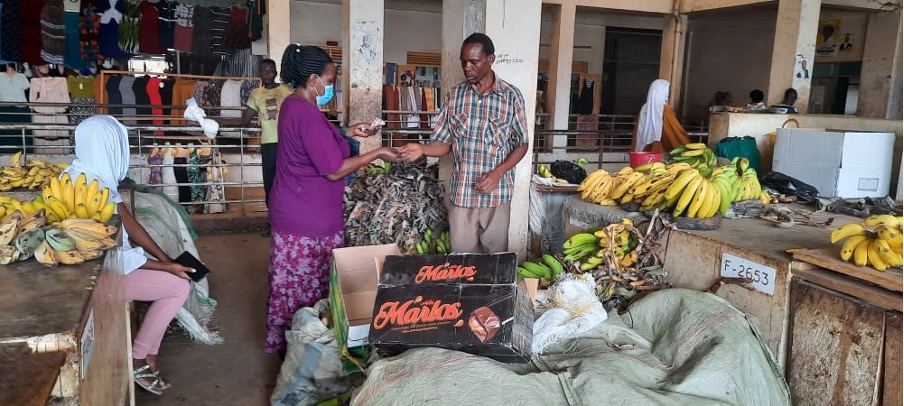 Mama Christine paying the seller.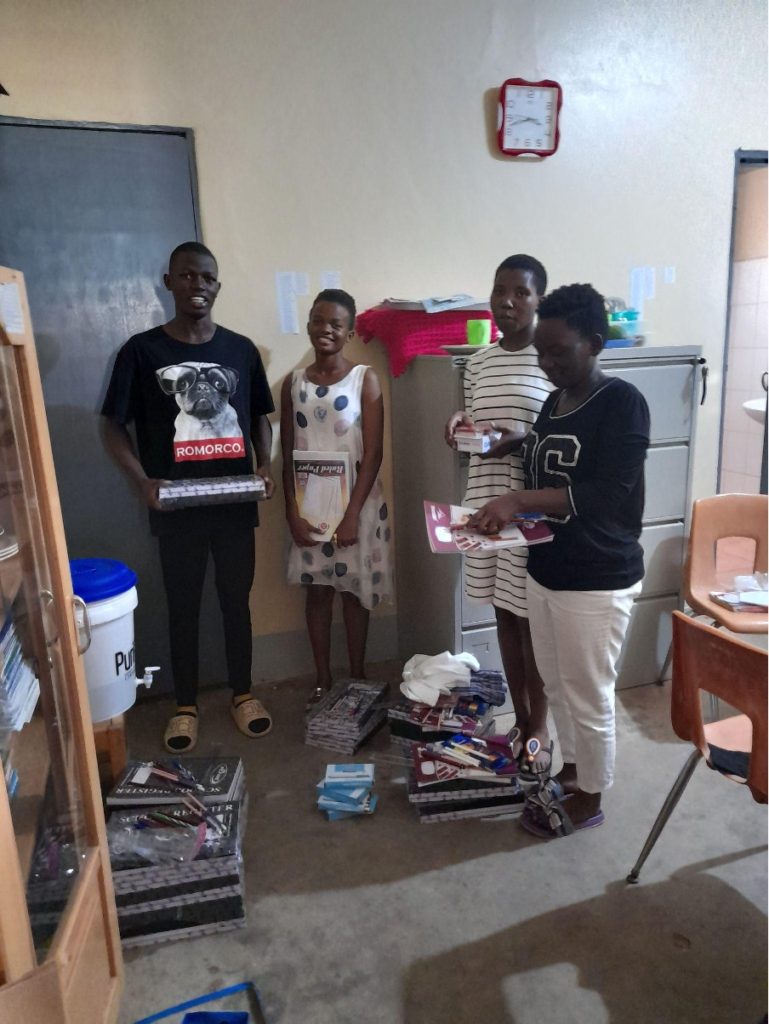 Some of the children receiving scholastic items after annual shopping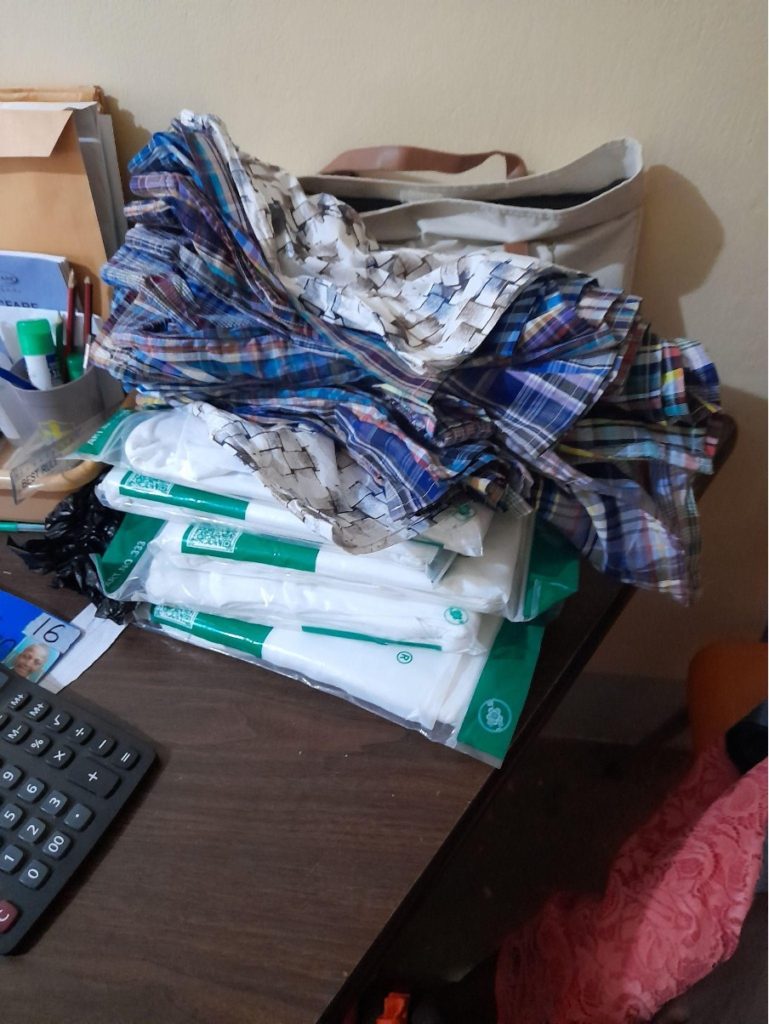 Vests and pants for the Secondary School boys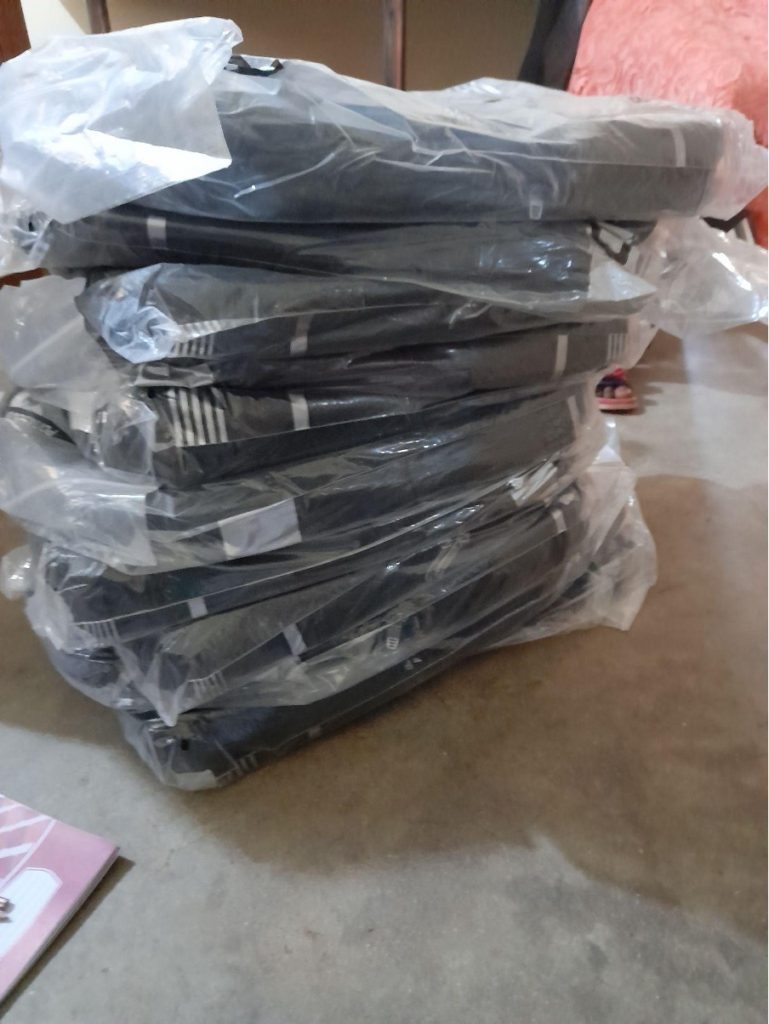 School bags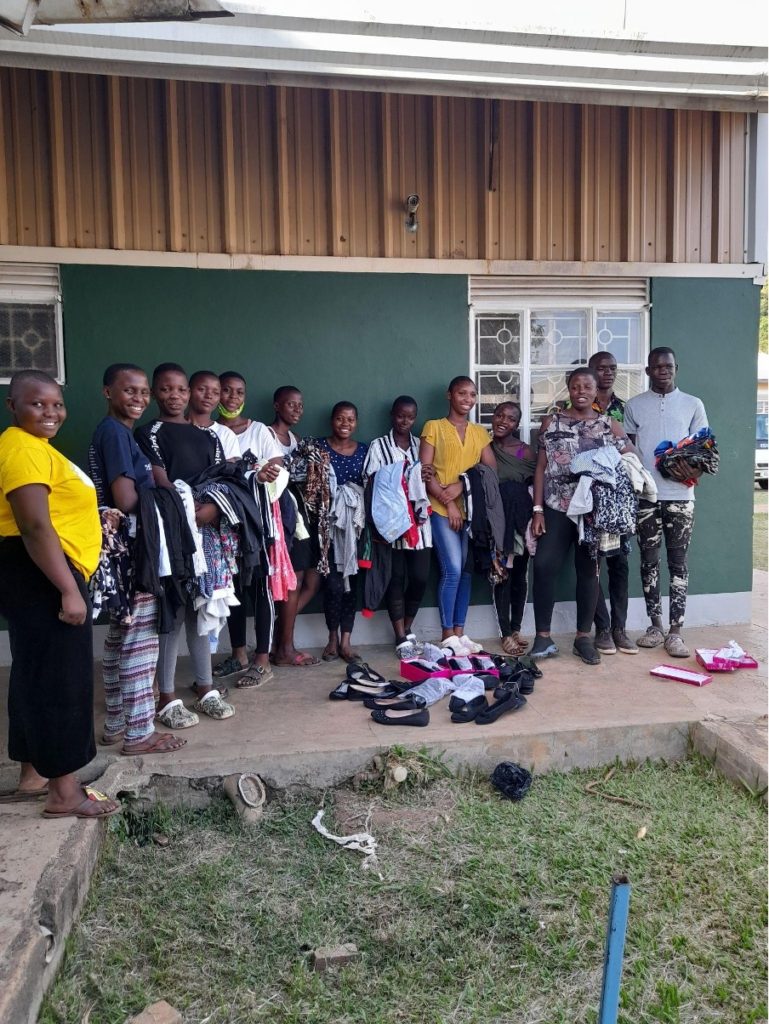 Secondary Kids during the annual shopping for clothes, shoes and other personal effects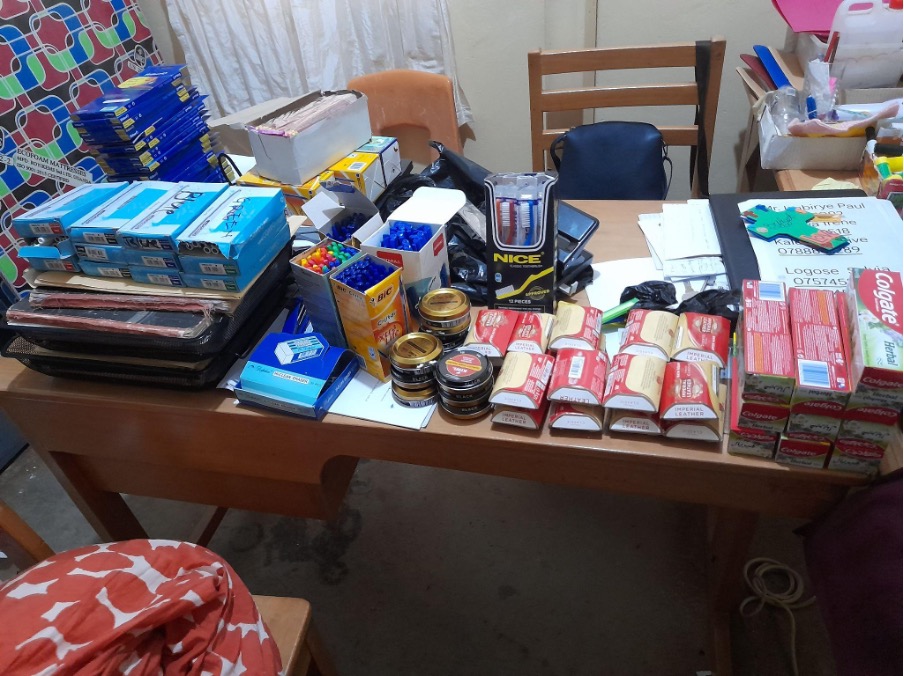 Secondary school personal effects annual shopping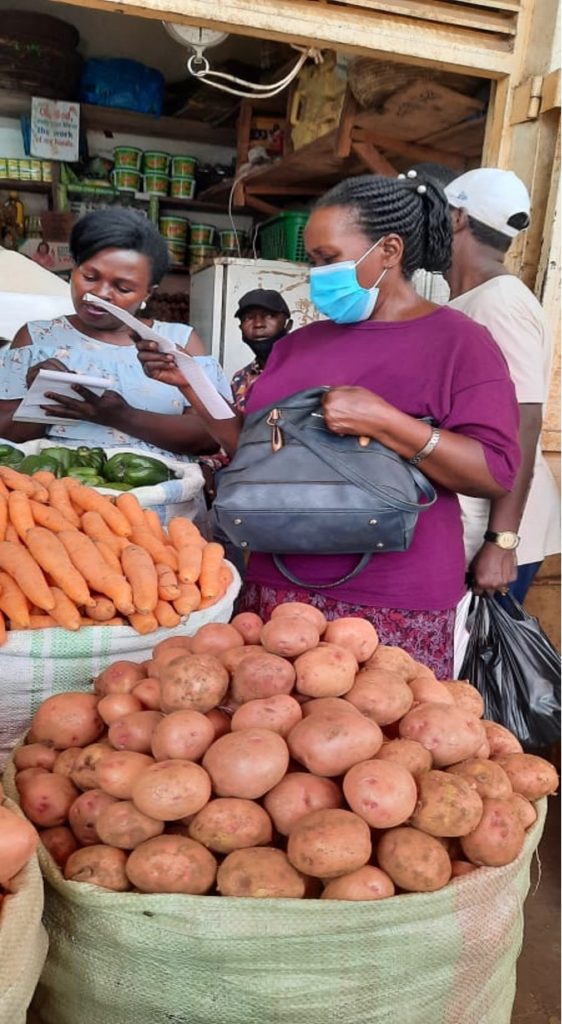 Mama Christine purchasing irish potatoes and carrots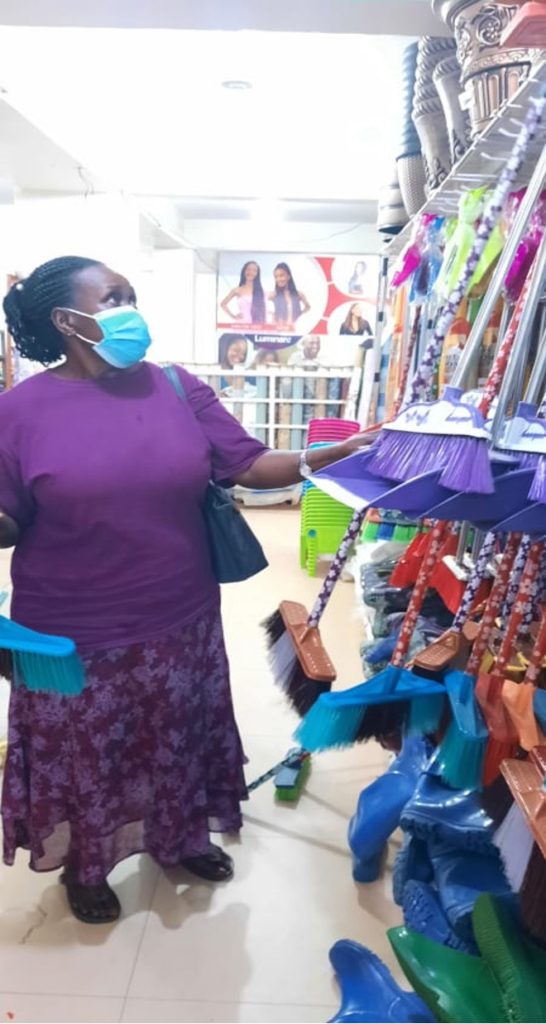 Mama Christine purchasing cleaning supplies
TGN (The Good Neighbour)
Pastor David through the good neighbour program purchased scholastic materials which were given to the community Children. It was a joyous moment as Our Children interacted with the community Children and shared the word of God and a meal at the end of the day. Counselling of the community and Lulwanda Children was done by the Lulwanda staff together with Pastor David. A call was made to put God first in order to succeed in life. Among the items purchased included scholastic materials, uniform, soap and smearing jelly.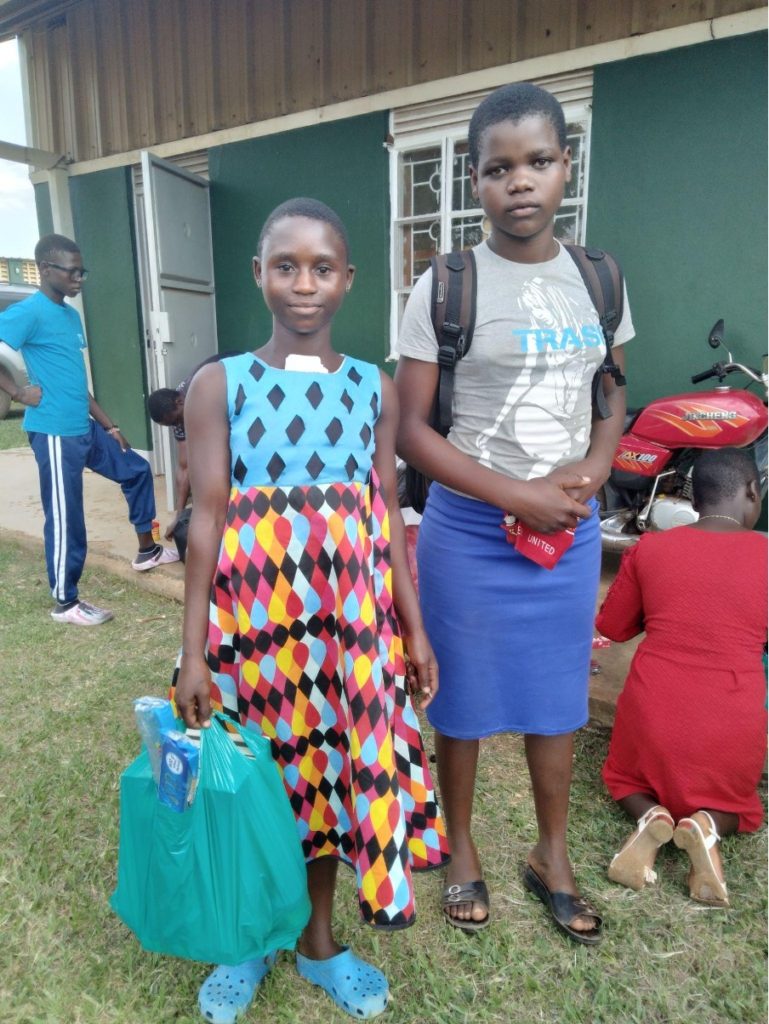 Ketty Kakayi with her TGN friend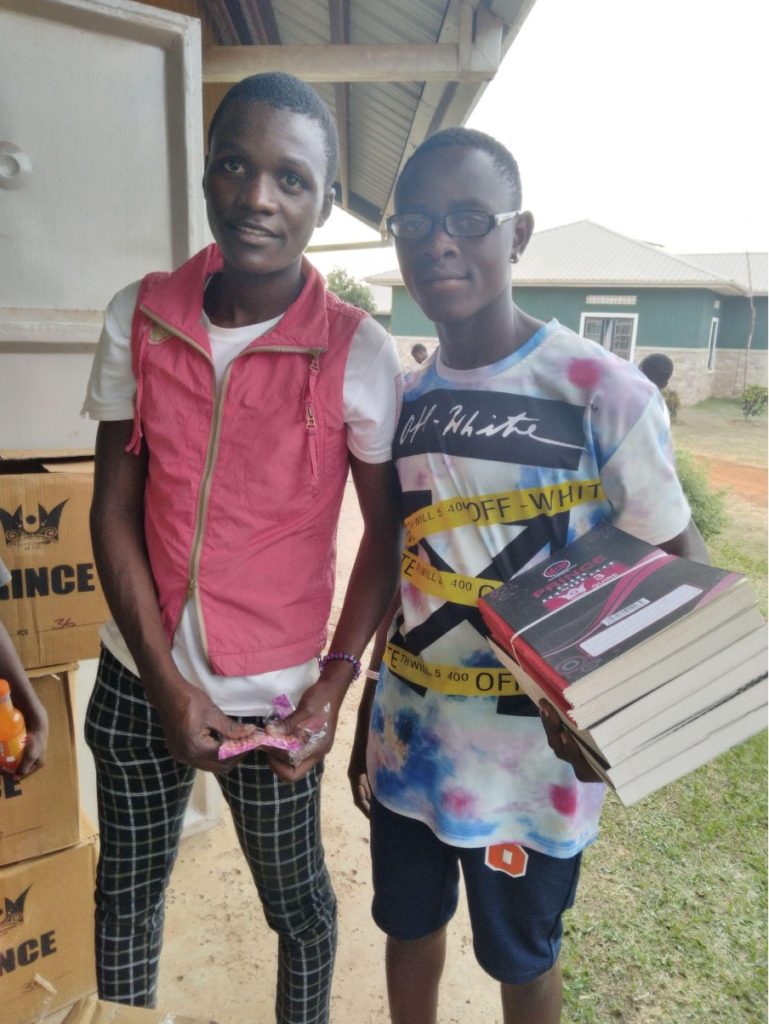 Emmanuel Kintu with his TGN friend
CONCLUSION
Thank you so much for standing with us. All of this has been possible because of your kind and generous heart for the good of the orphans. Once without hope, now there is hope for a better future knowing that there are great friends across the globe who love and wish them well. Be blessed dear friends of Lulwanda!
In His Grace
Paul Isabirye
Administrator – LCH